First of we sincerely thank you for accepting our interview offer. It will be the first interview of our new blog, kuzeyligleri, so very special for us!
tequciqalpa13:
After having several trials with European clubs, especially scandinavian teams, you are finally playing in europe this year, Can we say that playing in Europe was one of your dreams in your career for a long time?
Rusin:

Yes it has always been a goal of mine to play in Europe. Now that I am here I want to make the best of it and prove that I can be successful and become a better player than I am now.
tequciqalpa13:
We see several American footballers playing in Denmark; Rolfe, O'Brien, Goodson, Parkhurst. Why do you think Danish League attracts American players so much?
Rusin:

I think the main reason we are here is because of our work rates and our determination. If you look at the guys that are in Denmark we are all hard workers and I think that is now the perception of American players and it is not a bad perception to have. Also the league is a good standard and I believe it helps that most Danes speak english which makes it easy for us to adjust and easier for us to play football and feel comfortable.
tequciqalpa13:
Which characteristics differ Danish football from USA football?
Rusin:
I think the biggest difference is the technical and tactical side. The players here know what their good at and the can execute what they are good at more efficiently than players back home. Not to say some aren't technical back home but the standard is better here. Realistically, there are better athletes back home playing football, but it doesn't mean they are better footballers.
tequciqalpa13:
American defenders in Danish League, Parkhurst and Goodson is playing for national team, does it motivate you more to work hard for national team?
Rusin:
I think it is a good thing for me. I am here in Europe in the same league as those guys. It means the national team is watching games in this league. The biggest thing for me is just to play in as many games as possible and stay healthy. And if I do that and just concentrate on what I need to do now, then we will see what happens in the future with the national team.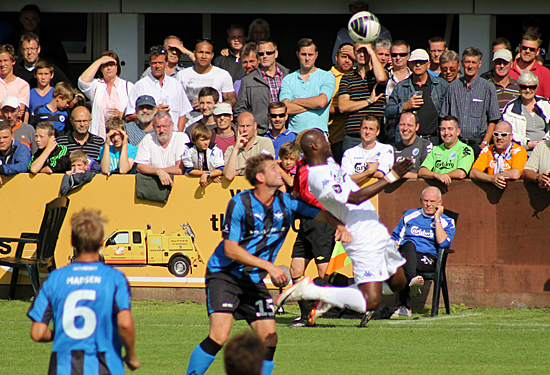 tequciqalpa13:
How is the friendship in team, are you happy to be a part of Koge?
Rusin:
Yes, I am very happy to be apart of the club. I have only been here a short time, but everyone is so close from the office to the players. I am fortunate to have such great people around me that make me comfortable. It's enjoyable when you only have to worry about playing football. It is like a family here.
tequciqalpa13:
I notice that youre coming together with team mates and sometimes playing call of duty, who is the best player in that game?
Rusin:
I am not gonna say anyone is better than me haha I am not like that! But there are a couple players who are close to my level like Patrick Hansen, but then these are guys like Marcel Rømer who have some catching up to do haha!
tequciqalpa13:
As far as i follow on twitter you have a good friendship with Makienok, do you think he will be successfull in Brondby?
Rusin:
Yes, I think he will be very successful anywhere he goes. He has great technique for such a big guy and he is still young. I think he will be a big player for them and I hope he scores many goals for them and in his future. I have already told him he will not score against us though!
tequciqalpa13:
Can we say that after transfer of Makienok to Brondby, playing style of Koge is more based on counter attacks?
Rusin:
I don't think much has changed to be honest and we have done quite well without him so far. I think because we are under pressure at times we need to dump the ball long and move up as a team. We still want to play good football and we have the players to do that. In these last few games we have showed tremendous fight and effort and have came away with good results and thats what we need. At the end of the day...whichever way we can get points is the way we need to play and the coaching staff prepares us each week for us to go and get the job done.
tequciqalpa13:
Who do you think as the most dangerious striker in the league?
Rusin:
If I had to pick one it would have to be N'doye. He plays for the top team in the league and at any moment he can score if you are not careful.
tequciqalpa13:
Would you like to continue your career in Denmark?
Rusin:
It is a great league and a great place to live. Of course if I have options to play in bigger leagues and things like that down the road, I would have to take a look at. At the same time, I can see myself playing in Denmark for many years as long as I am healthy, happy, and performing.
uniforce:
How was preparation and training in Antalya. Did you like Turkey? Do you know anything about Turkish football? Any team or footballer?
Rusin:
My experience to Turkey was great! It is a fantastic place for teams to go and train and get ready for the season. The fields were great, the food was great, and most importantly it was good weather. Yes I enjoyed my time there, but we didnt get much time to explore. I think that is just an excuse to go back again! I knew of the bigger Turkish clubs from champions league and watching clips of their crazy fans.
uniforce:
Which is more important for team now, relegation battle or winning cup?
Rusin:
I think both are equally as important. Both are not out of reach and we have been doing well the last couple of matches. For this club to stay up would be great and especially because everyone counted us out. We want to prove them wrong! And for the cup...that's also huge for the club!! We are looking forward to great results in the league and also to win the the cup! Don't count us out!
tequciqalpa13:
What do you think about your new coach, Tommy Møller Nielsen? Can you compare him with Skarbalius in terms of attitude towards you and playing style
Rusin:
I think Tommy is a great coach! Everyone respects him and everyone wants to work hard for him. He is a great motivator and has a positive attitude that helps everyone. I think this team has gotten better and better since I have been here and I know that we will get many more good results. I have to say that Tommy has been a big reason for the success!
tequciqalpa13:
Last question is about your spectacular goal against Lyngby, for me still remains as the best goal scored this season and readers will have a chance to see it. How was your feelings after scoring?
Rusin:
Well thank you for thinking that!! After I scored I didn't think it would become all over the internet like it did. I was very suprised at the press that it got, but I was very happy about it. It was a great way to start in Europe and now I just need to get a couple more like that haha!